Difference between revisions of "Color Stop/de"
From Synfig Studio :: Documentation
---
Latest revision as of 22:17, 5 July 2014

Im Verlauf Editor Dialog unterhalb des Vorschaubereichs befinden sich zwei kleine Dreiecke, sogenannte "Farbstops", die die Anfangs- und Endfarbe des Verlaufs kennzeichnen.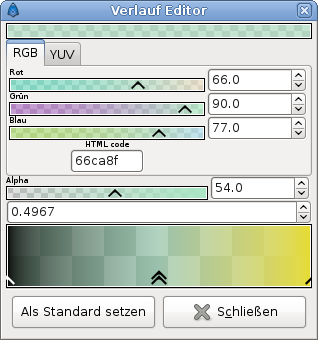 Der aktuell ausgewählte Farbstop wird mit einem doppelten weißen Dreieck dargestellt. Seine Farbe wird im oberen Bereich zum Bearbeiten angezeigt. Du kannst jeden der anderen Farbstops durch Klicken auf ihr Dreieck auswählen, um die anderen Farben des Verlaufs zu bearbeiten.
Wirf einen Blick auf den Verlauf Editor Dialog für mehr Informationen über "Farbstops" in Synfig.