Difference between revisions of "Doc:Adding Layers/es"
From Synfig Studio :: Documentation
Line 61:
Line 61:
 

[[Image:Adding-layers-tutorial-6.jpg]] [[Image:Adding-layers-tutorial-7.jpg]]

 

[[Image:Adding-layers-tutorial-6.jpg]] [[Image:Adding-layers-tutorial-7.jpg]]

 
 
−

Now, right click on the layer with black circle in the [[Layers Panel]] and a popup menu will appear. The first item in that popup is "New Layer". Inside of the "New Layer" menu, you'll see several categories of layers you could create, but what we want is a blur, so goto the Blur category and select the "Blur" layer. (so that would be "New Layer->[[Blur Layer Category|Blurs]]->[[Blur Layer|Blur]]")

+

, [[Layers Panel]] menu . "New Layer". New Layer, ,

 
+

blur, Blur. "New Layer->[[Blur Layer Category|Blurs]]->[[Blur Layer|Blur]]"

 
 
 

[[Image:Adding-layers-tutorial-8.jpg]]

 

[[Image:Adding-layers-tutorial-8.jpg]]
---
Revision as of 19:02, 6 August 2008
Esta página debería estar escrita en Español. Por favor ayúdanos a traducirla!
Nota para el lector: Esta sección todavia no esta terminada, por favor sea paciente.
Introducción
En el tutorial anterior, hiciste una primera animación sencilla al cambiar los atributos de objetos primarios, tales como: posición, color, y tamaño. Estas formas simples, sin embargo, son casi insuficientes al momento de crear personajes u objetos avanzados. Para ello, Synfig utiliza Capas. Estas son similares a las capas que se conocen en otras aplicaciones para dibujo, como por ejemplo GIMP.
No obstante, las capas de Synfig se diferencian de las capas comunes en, por lo menos, dos características:

Puedes organizar las capas en grupos jerárquicos.
Puedes usar capas superiores para cambiar el comportamiento (o estética) de capas inferiores.

Hacerlo es bastante fácil. Observemos un ejemplo sencillo.

Crea un nuevo archivo de duración 0. No hace falta molestarse con una linea de tiempo en este momento.
Crea un rectángulo sencillo con la herramienta correspondiente.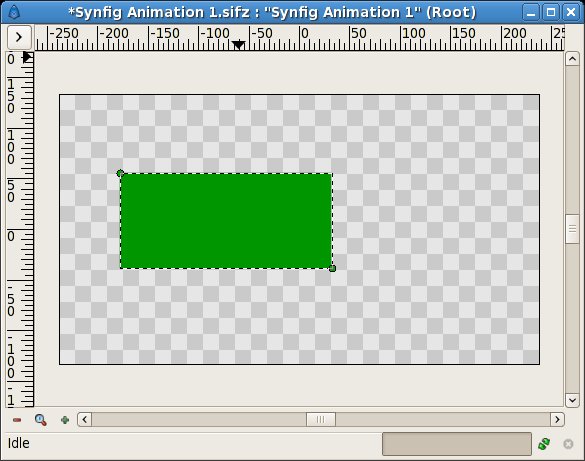 Combinación de capas
Aquí hay dos maneras de proceder. Primero, toma la herramienta escala (gradient tool) de la caja de herramientas de Synfig , y cliquea sobre el lienzo una vez. Deberías notar que una nueva capa se agregó en la ventana de las capas, esta nueva capa se llama 'Gradient'. Esto no tiene nada de especial. Si no ves ninguna escala en el color, sino simplemente color liso, toma la normal tool, cliquea dentro del lienzo para activar los puntos (ducks) de la escala. Sobre el lienzo tiene que haber aparecido un punto, arrástralo hasta que una escala aparezca.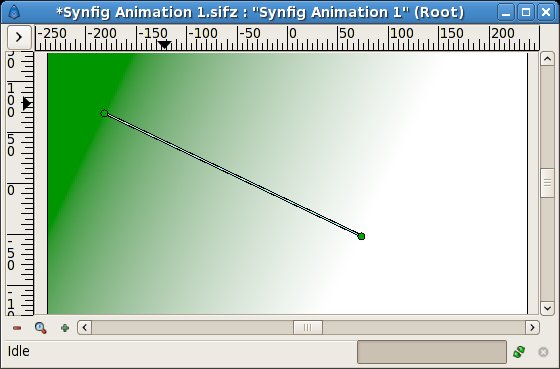 Ahora tienes una escala, pero no como querías, ésta cubre todo el lienzo mientras que el objetivo era tener una escala dentro del rectángulo. Reparémoslo ahora.
Selecciona las capas escala y rectángulo en la ventana de las capas. Deberían resaltarse en azul. Luego, click derecho con el mouse y selecciona 'Encapsulate' en el menu que aparece. La ventana de capas debería cambiar, mostrando una cajita llamada 'Inline Canvas' (lienzos interactuantes) con una flecha delante.
Puedes tratar esta nueva capa como cualquier otra -- moverla, duplicarla, copiarla y pegarla. Si cliqueas sobre la flecha, puedes expandir la 'inline canvas' para ver su contenido, o sea, tus dos capas anteriores: la escala y el rectángulo.
Si le quieres poner un nombre más descriptivo, selecciona la capa en la ventana de capas y cliquea sobre su nombre. Luego simplemente la editas allí mismo. Puedes hacerle esto a cualquier capa, y te lo recomendamos.
Efecto restringido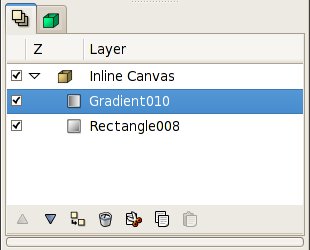 Sin embargo, aún tenemos un problema: La escala aún cubre todo el lienzo mientras que la queríamos solamente en el rectángulo. Para ello, selecciona la capa 'gradient' en la ventana de capas. Ahora ve a la ventana 'params' (predeterminado como una de las pestañas de la ventana 'Params-Children-Keyframes'), y busca el atributo llamado 'Blend Method'. Cliquéalo dos veces y selecciona 'Onto' del menu que se despliega.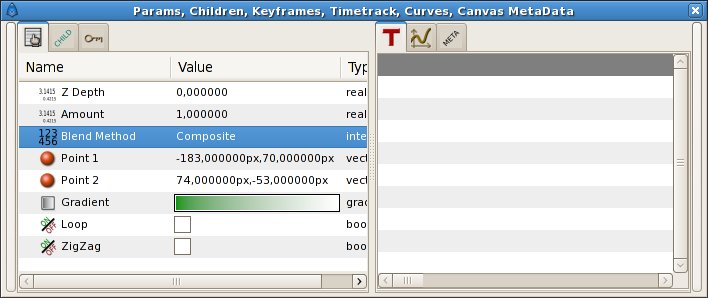 Ahora la escala debería verse solamente dentro del rectángulo. Felicitaciones! Acabas de hacer tus primeras capas interactivas con Synfig.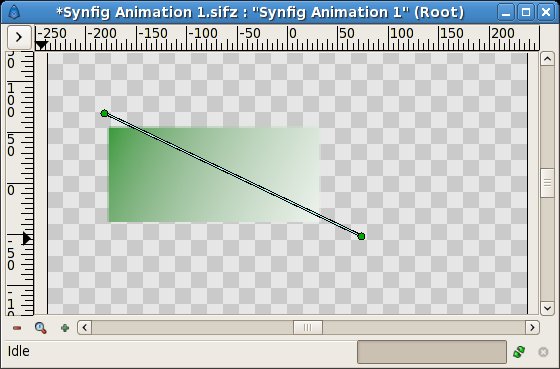 Desde ya, por motivos de organización, el encapsulamiento de capas mejora mucho el uso de Synfig Studio. Muchos programas pueden hacer esto. Pero el alcance y la libertad que le añade Synfig, lo separa del resto de los programas que utilizan la jerarquía de capas.
Sin embargo, una capa puede modificar solamente la información que obtiene directamente debajo de ella. En otras palabras, si fueras a echar una Blur Layer sobre las capas que están dentro del inline canvas, ésta esfumaría solamente a ellas -- todo lo que esté debajo del 'inline canvas' no sería esfumado!
Intentémoslo. Crea dos círculos rojos y en la ventana de capas muévelos debajo del inline canvas. Ahora nuestro inline canvas (con rectángulo y escala) está sobre los círculos.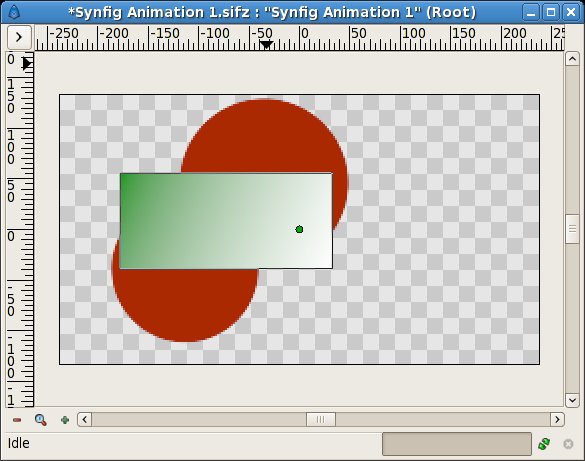 Despliega el inline canvas para visualizar su contenido, y selecciona la primer capa que aparece (debería ser la capa escala). Aquí es donde queremos insertar una capa nueva. Crea un círculo de color negro. La capa de este nuevo círculo estará ubicada sobre la capa escala, dentro del inline canvas.
Ahora, en la ventana de las capas haz click derecho sobre la capa del círculo negro para que un menu se despliegue. La primer opción del menú será "New Layer". Dentro de New Layer, verás muchas categorías de capas que podrías crear, pero lo que queremos es esfumar (blur) o un efecto borroso, entonces ve a la categoría Blurs y elige la capa Blur. Resumiendo, sería "New Layer->Blurs->Blur"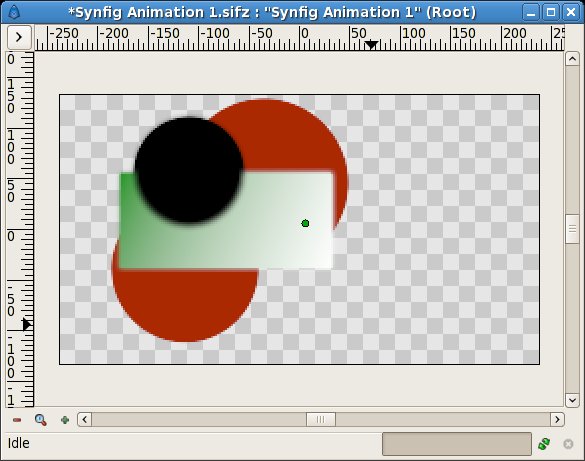 Well, it blurred... but something is not quite right - outside edge of contents of the inline canvas is still sharp. It is doing this because the blend method of the blur defaulted to "Composite" (you can change the default blend method for new layers from the New Layer Defaults section of the Toolbox). What we want is a blend method of "Straight". Just select the blur layer, and change the Blend Method to "Straight" in the Params Panel.
NOTE: I will probably change the way that default blend methods are handled in the future--as the way it is currently handled seems to only create hassles like this.
Ok, now we have all of the contents of the inline canvas blurred, but everything under it is sharp!
Digging further...
If you care to look into Synfig's main menu 'Layer > New Layer' you will note quite a lot of different possibilities for making layers. Several of them sound rather unusual; 'Transform > Rotate' for example. You can use this to add new attributes to your objects. And just like other, basic attributes in the previous animation tutorial, you can change them to be different on certain keyframes. Synfig will take care of interpolating the steps in between.
For example, you could create a some shape and add a Rotate Layer over it. Combine this with the lesson learned in the last tutorial and you can create a rotating effect. This technique is used for creation of Cut-out Animation.