Difference between revisions of "Parameters Panel/ro"
From Synfig Studio :: Documentation
---
Latest revision as of 16:51, 22 May 2013
Introducere
Fereastra de dialog pentru setarea parametrilor - Params poate fi considerata inima interfetei Synfig. Aici se afla toti parametrii straturilor care sunt editate in diferite moduri.
Sablonul ferestrei de dialog Params este simplu - se compune dintr-o lista cu doua coloane.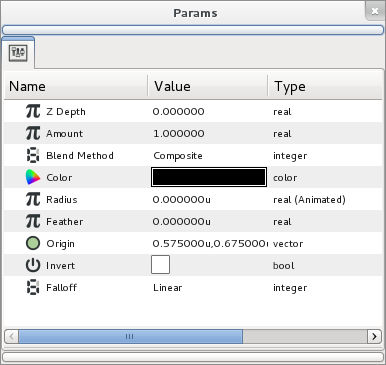 Prima coloana, numita 'Name', este o lista cu parametrii stratului selectat, care poate fi extinsa. Majoritatea straturilor nu au parametri care sa se repete, cu exceptia listei de noduri din straturile Geometry.
In coloana a doua, 'Value', se afla valorile fiecarui parametru din stanga. Aici pot fi afisate tipuri diferite de informatii.