Tool Options Panel
From Synfig Studio :: Documentation

The "Tool Options Panel" displays the options you have available to apply to the current tool you're using. For the tools that can create multiple layers at the same time the panel contextually display the available options for the selected type of layers.
The panel's icon is the current active tool is being used.
The values of the "Tool Options Panel" parameters are stored between tool usages and between SynfigStudio sessions, so you can reuse them as may times as you like.
This is the list of available options for each tool:
Lock Aspect Ratio (boolean)
Horizontal (boolean exclusive)
Vertical (boolean exclusive)
New Layer's name (text)
Create Circle Layer (boolean)
Create Outline (boolean)
Create Advanced Outline (boolean)
Create Region (boolean)
Create Plant (boolean)
Create Curve Gradient (boolean)
Link Origins (boolean)
Spline Origins at Center (boolean)
Invert (boolean)
Falloff (drop down list)
Feather (real)
Spline points (integer)
Point Angle Offset (angle)
New Layer's name (text)
Create Rectangle Layer (boolean)
Create Outline (boolean)
Create Advanced Outline (boolean)
Create Region (boolean)
Create Plant (boolean)
Create Curve Gradient (boolean)
Link Spline Origins (boolean)
Invert (boolean)
Expansion (real)
Feather (real)
New Layer's name (text)
Create Star Layer (boolean)
Create Outline (boolean)
Create Advanced Outline (boolean)
Create Region (boolean)
Create Plant (boolean)
Create Curve Gradient (boolean)
Link Origins (boolean)
Spline Origins at Center (boolean)
Invert (boolean)
Regular Polygon (boolean)
Feather (real)
Number of points (integer)
Inner Tangent (real)
Outer Tangent (real)
Inner Width (real)
Outer Width (real)
Radius Ratio (real)
Angle Offset (real)
New Layer's name (text)
Create Star Layer (boolean)
Create Outline (boolean)
Create Advanced Outline (boolean)
Create Region (boolean)
Create Plant (boolean)
Create Curve Gradient (boolean)
Link Origins (boolean)
Spline Origins at Center (boolean)
Invert (boolean)
Feather (real)
Make Polygon (action button)
Clear current Polygon (action button)
New Layer's name (text)
Gradient Type (drop down list)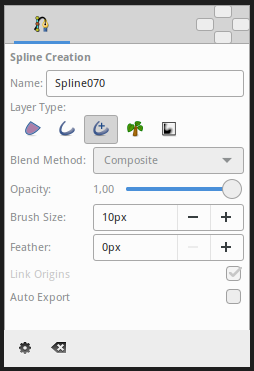 This tool has the following options:
Name: Sets the name of the Spline that you will create, in this case "Spline070". If the ending part of the string contains an integer number, this input text box will parse it and increase that number for the next created Spline. Otherwise, it will add a three digit number while creating the next one.
Layer Type: Sets whether to create Region, Outline, Advanced Outline, Plant and/or Curve Gradient Layers.
Blend Method: Sets the blending method used to composite on the layers below.
Opacity: Sets the Amount for new layers. Defaults to 1.00 (Completely opaque).
Brush Size: Sets the size of the line for Outline Layer and/or Advanced Outline Layer.
Feather: Sets the feather parameter of the Region or Outline Layer created.
Link Origin: If checked, links the Origin for the Plant, Region or Outline if two of them (or all them) are checked.
Auto Export: If checked, exports automatically the Vertices parameter (that's a Spline type parameter)
New Layer's name (text)
Create Outline (boolean)
Create Advanced Outline (boolean)
Create Region (boolean)
Auto Loop (boolean)
Auto Extend (boolean)
Auto Link (boolean)
Auto Export (boolean)
Pressure Width (boolean)
Local Error (boolean)
Min Pressure (boolean) & (real)
Spline Smoothness (real)
Max Width Error (real)
Feather (real)
Fill Last Stroke (action button)
Local (real)
Global (real)
Feather (real)
Growth (real)
Radius (real)
Relative Growth (boolean)
New Layer's name (text)
Multiline Editor (boolean)
Size (2D vector)
Orientation (2D vector)
Family (text)
Show Sketch (boolean)
Undo Last Stroke (action button)
Clear Sketch (action button)
Save Sketch As... (action button)
Open a Sketch (action button)
Eraser (boolean)
List of available brushes