Doc:Cut-out Animation
From Synfig Studio :: Documentation
This is brief tutorial to show how create cut-out style animations. Usually cut-out style animations use image art instead of vector art to create the animation. See South Park series. You should obtain som kind of animation like this one:

Preparing the material
For a cut out animation you'll need some images that represent the moving parts of the animation. For this example I've prepared a Simpson's like boy.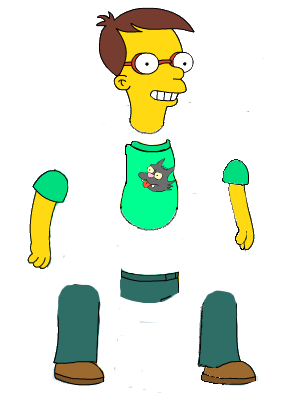 Each part of the body (head, arms, legs, etc.) is a single png file. (In the above image the imagees ar composited in a bigger one). I've set all the files to have the same horizontal and vertical dimensions so all the images can fit one above other to create the character without the need to adjust them in size or position. It will help later to import each image into Synfig.
Importing the cut outs images
As simple as go to the Caret Menu and select File->Import and the proper file for each part of the character.

(to be continue...)