BLine Tool
From Synfig Studio :: Documentation
ALT-B
Introducere
Linia Bezier - BLine este cel mai folosit obiect in orice animatie normala realizata cu Synfig< instrumentul folosit este Bline.
Folosire
Butonul pentru instrumentul Bline comuta in modul Bline. Pentru a iesi din acest mod de editare, dati click pe alt instrument din caseta cu instrumente. Folosirea acestui instrument este simpla:
Cu un singur click se fac nodurile. Valorile pentru tangente sunt setate la (0,0), iar nodurile au colturi ascutite.
Cu click si tragere mouse se fac noduri care permit modificarea valorilor tangentelor. Prin tragerea tangentelor se rotunjesc colturile.
Fiecare nod nou este legat de nodul anterior printr-o linie Bezier definita de pozitia nodurilor si de tangentele acestora.
Linia BLine este realizata secvential; un nod urmeaza celui dinainte.
Punctul de final a arcului anterior Bezier determina urmatorul arc creat, pana la inchiderea curbei. Urmatoarea BLine creata este independenta de cea creata anterior.
Puteti modifica nodurile nou create cu click pe marcatori si tragerea acestora.
Daca dati click pe butonul din dreapta mouse pe un marcator de nod sau de tangenta este afisat un meniu contextual:

Pentru marcatorii de tangenta: "Split tangents" va desparti tangentele, astfel incat sa poata fi modificate independent. "Merge tangents" va uni tangentele independente, astfel incat nodul sa faca o trecere lina a curbei.
Pentru marcatorii de noduri: "Loop Bline" sau "UnLoop Bline" (depinde de tipul curbelor: deschise sau inchise) permite inchiderea sau deschiderea curbelor. "Delete vertex" sterge nodul selectat.

Cu click pe butonul dreapta mouse pe mijlocul unei curbe bezier si alegand optiunea "Insert vertex" puteti adauga in locul unde ati da click un nod (si seta tangentele acestuia in concordanta cu valorile nodurilor invecinate).
Pentru a termina constructia Bline:
Selectati alt instrument.
Click pe butonul roata-dintata din caseta Tool Options.
Pentru a anula constructia unei curbe Bline, apasati tasta "Esc".
Optiuni
Acest instrument are urmatoarele optiuni: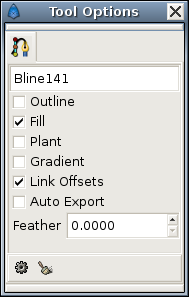 Numele stratului pentru BLine. Numele pentru Bline este ales de ... by the text input box. In this case it is "Bline141". This input text will parse the end of the string if any integer number is found, increasing that number for the next time you create other Bline. If not number is found it adds a three digit number for the next Bline created.
Outline check box. If checked it creates an Stratul pentru linii de contur - Outline.
Fill check box. If checked it creates a Stratul pentru zona de umplere cu culoare - Region.
Plant check box. If checked it creates a Plant Layer.
Gradient check box. If checked it creates a Curved Gradient.
Link Offsets check box. If enabled it links the Offset Parameter for the Plant, Region or Outline if two of them (or all them) are checked.
Auto Export check box. If checked it automatically exports the Vertices parameter (that's a BLine type parameter)
Feather numerical input field. There you set the feather parameter of the Region Layer or Outline Layer created.
Other sources of information
See this video tutorial to see it in action.
Read Crearea formelor which talks a little about the BLine tool.
Read Bline Speed which explains about variations in the Amount parameter of BLines.